North Hills Animal Hospital is a state of the art, full service animal hospital. Our services include diagnostic and therapeutic services, surgery, anesthesia, radiology, electrocardiography, laboratory, pharmacy, and dentistry. We offer in-patient and out-patient care, microchips, boarding, bathing, special diets, as well as dietary and behavioral counseling to meet all your pets needs.

Diagnostic Services:
Radiology We have converted to digital radiography to provide sharper, clearer images in minutes. These images can be viewed on laptop computers and monitors throughout our hospital. Radiograph images can be emailed to referral radiologists for consultation when needed. We use a dental and standard table model x-ray machines to quickly serve the patients needs.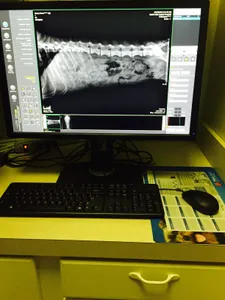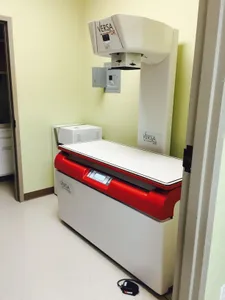 Laboratory
Our in-house laboratory facility provides for serum chemistry, hematology, serology, urinalysis and parasite testing. Our laboratory allows us to furnish data in order to speed the diagnosis and early detection of health problems. We also utilize commercial veterinary laboratories for specialized diagnostics and consultations. Early detection of disease is the key to good health.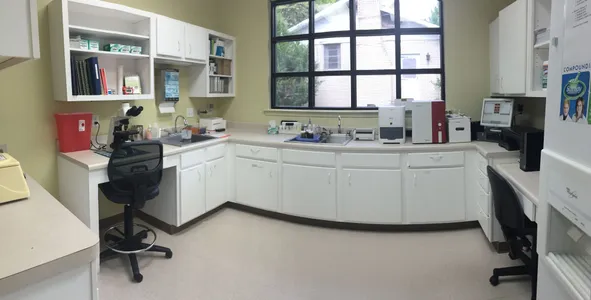 Electrocardiography
We provide ECG services on-site as well as consultations with cardiology specialists.

Therapeutic Services:
Dentistry
Our dental station is equipped with gas anesthesia, electronic monitors and a veterinary assistant to monitor the sleeping patient. An electronic heat pad is placed under the patient to provide warmth and record the respiratory and heart rate for the pets safety and comfort. Alarms are built into the monitor and the anesthesia machine for the patients' safety. We encourage regular dental care to prevent the accumulation of tartar and the resulting long term damage to the pets health from chronic gum infection.
Surgical Services
Our surgical suite provides two gas anesthesia machines with electronic monitors. Back up units are suspended from the ceiling track above both of the stainless steel surgical tables. Dual ceiling mounted surgery and spot lights are suspended over each table. Our surgery tables have heated surfaces to help maintain the patients body temperature and speed recovery from anesthesia.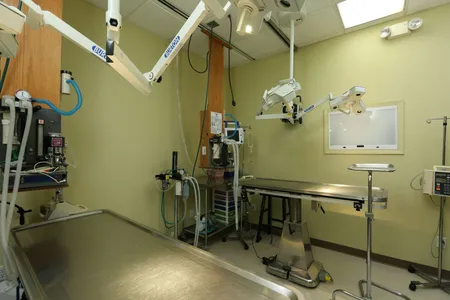 Anesthesia
Gas anesthesia machines and electronic monitors at the surgery, treatment and dental tables provide an extra margin of safety - especially for our older and high risk patients.

Laser Therapy
Our therapeutic laser provides a non-invasive treatment aid to reduce pain and inflammation and to speed healing without the use of drugs that may conflict with other medication. This is especially important in the case of aging patients or patients on medications for chronic problems. It is the newest technology used to enhance treatment plans and improve the quality of life for your pet.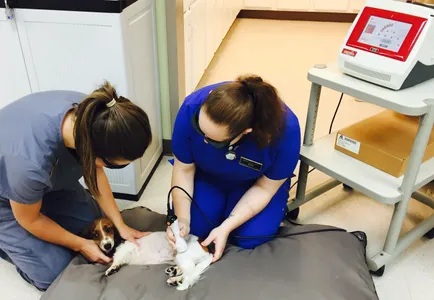 Pharmacy:
We maintain a complete inventory of pharmaceuticals, supplements, and preventatives to meet the needs of your dog or cat.

Dietary Counseling:
We provide guidance regarding your pet's nutritional needs for each life stage, including dietary requirements for growth, weight maintenance, and performance.

Behavioral Counseling:
We offer advice regarding the correction of problems such as excessive barking, chewing, spraying, scratching, digging, house soiling, and aggression.